Celebrating Ministry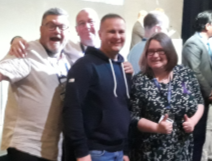 NWBA Ministers were among those who were recognised as fully enrolled Baptist ministers at this year's Baptist Assembly. This annual ceremony is an opportunity to celebrate and commission those who have completed their initial probationary period, as they are greeted by the incoming President of Baptists Together.
Pictured here are Keith Parr, Arthur Janes, Simon Brawn and Claire Nicholls, also recognised but unable to be present were Ian Ley and Trevor Casey. We pray for them, and all those who are involved in leadership in our Baptist Community.
This year's Assembly inducted Rev Ken Benjamin as Baptist Union President. Ken was in the North West immediately before Assebly sharing his theme 'Where do we Grow from here'. Ken has a clear vision of supporting and re-envisioning churches and we are working with him to make this available to as many NWBA congregations as possible.